Grasp The Process Of Obtaining NDIS Plan Management In Darwin
NDIS Plan Management Services In Darwin
At Iconic Care Plan Management, we understand that managing your NDIS (National Disability Insurance Scheme) plan can be challenging. That's why we're here to lend our expertise, guidance, and unwavering support to guarantee that you or someone dear to you receives the best care and support possible.
Our journey began in Darwin, Northern Territory, where we established ourselves as your local NDIS plan management experts. Over the years, we have expanded our footprint to encompass all provinces of Australia, including New South Wales, Western Australia, South Australia, Australian Capital Territory, Victoria, Tasmania, Northern Territory, and Queensland. This wide-reaching presence underscores our commitment to excellence, as we aim to make our exceptional care management accessible to individuals and families nationwide.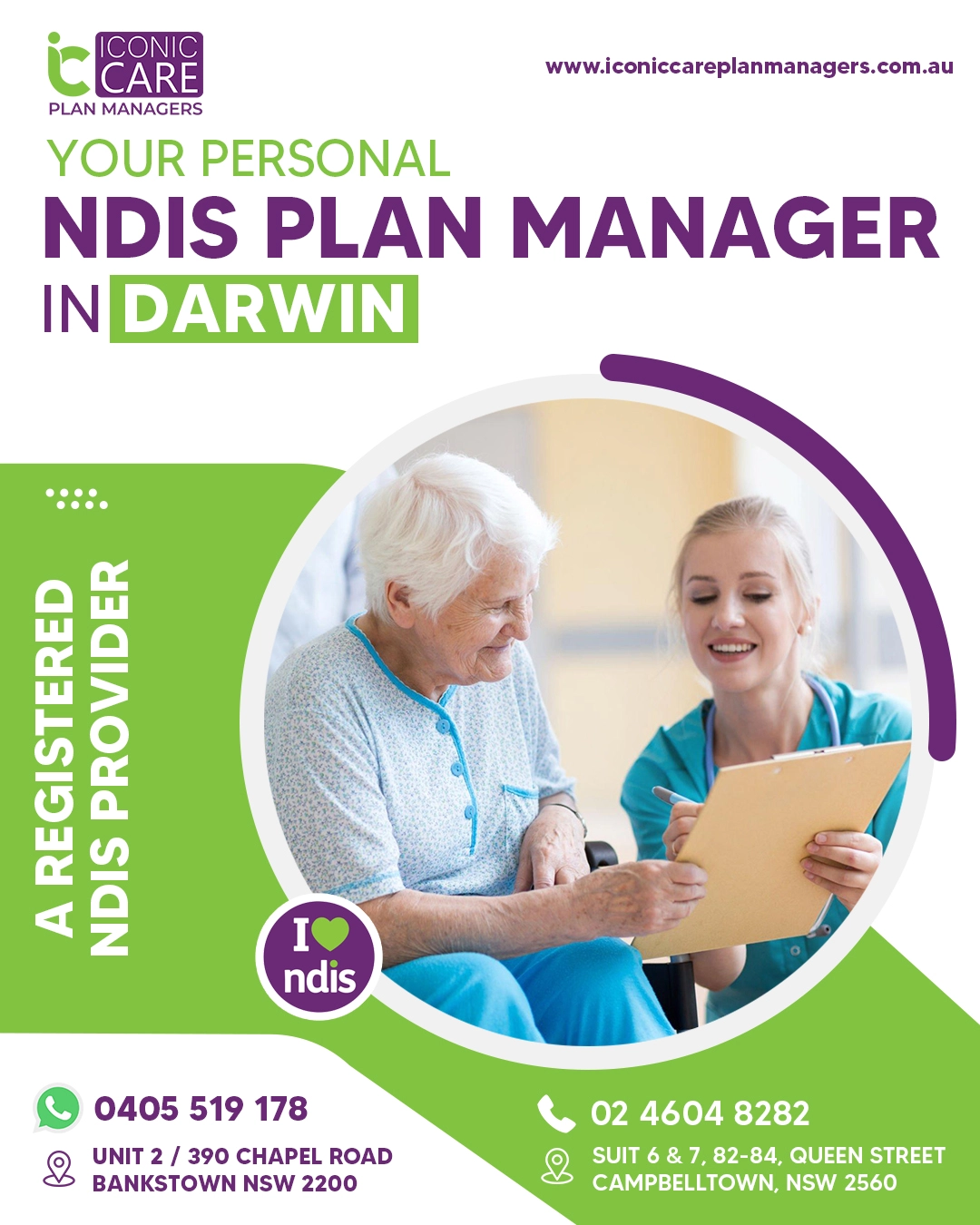 Why Choose Iconic Care Plan Management
Expertise You Can Trust: With years of experience in NDIS plan management, our team of experts has a deep understanding of the NDIS system and its intricacies. We stay up-to-date with the latest changes and regulations to ensure you get the most out of your plan.
Personalized Service: We believe that every individual's needs are unique. We work closely with you to create a customized plan management strategy that aligns with your goals, aspirations, and requirements. We're not just managing plans; we're building relationships and work as your plan managers.
Local Dedication: Being locally based in Darwin, we have a solid connection to the community and a profound comprehension of the distinctive difficulties and possibilities
 in the Northern Territory. We're always here to provide you with face-to-face support and assistance.
Streamlined Financial Management: Our comprehensive plan management services cover everything from budgeting and expense tracking to payment processing. We take care of the paperwork so you can focus on achieving your goals.
Emotional Support: Navigating the NDIS system can be emotionally taxing. That's why we offer compassionate and empathetic support to guide you through every step of the process. Your well-being is our priority.
Accessibility: Our office is conveniently located in Darwin, making it easy for you to reach us whenever you need assistance or have questions about your NDIS plan.
Iconic Care Plan Management is your dedicated partner on your NDIS journey. We're here to empower you, support you emotionally, and help you maximize your NDIS plan. Contact us today at 02 4604 8282 or info@iconiccareplanmanagers.com.au or complete our form to start your personalized plan management experience in Darwin, NT. Together, we can turn your aspirations into achievements.
Plan Management
Ways To Manage Your Plans
The Three Ways Your Plan Can Be Managed Are:
Plan Managed
Receive top-notch NDIS-like care plan management services in Canberra from esteemed professionals such as Iconic Care Plan Managers.
Self Managed
In our role, we assume the responsibility of disbursing payments to service providers and handling all the necessary paperwork involved in NDIS management.
Agency Managed
Registered providers have the ability to directly submit invoices to the National Disability Insurance Agency (NDIA) for payment.
Or you can choose to use a combination of management types to suit your needs.
When you use an NDIS plan manager, they take on the responsibility of paying the bills from your service providers. The plan manager is also responsible for giving you important information to help you manage your plan effectively, such as monthly statements showing how much you have spent.
Plan Managed:
Choose from a range of registered and non-registered providers.
Manage payments to NDIS support providers.
Ensure professional budget management for the sustainability of your plan.
Receive guidance to navigate the intricate aspects of the NDIS.
Self Managed:
Exercise decision-making aligned with your plan objectives.
Select both registered and non-registered providers.
Hire your own staff or delegate employment responsibilities.
Maintain complete control and accountability for your NDIS funds and claims process.
Agency Managed:
Enjoy convenient access to the myplace portal to track providers' claims against NDIS funds.
Experience the freedom to choose from a diverse selection of registered providers.
Gain enhanced control over the utilization of NDIS funds.
Need A Plan Manager?
Have the freedom to make all the choices without the hassle of managing the paperwork – leaving you more time to live the life you want!