Understand how to acquire NDIS Plan Management In Hobart
NDIS Plan Management Services In Hobart
Welcome to Iconic Care Plan Management Hobart, Hobart's best NDIS plan management service provider. Our loyal team offers exceptional support to individuals with disabilities through personalized assistance and self-made plans. Our goal is to empower participants to lead enriching lives with daily tasks and community engagement.
Iconic Care Plan Management strongly believes that exceptional care and support should be accessible to everyone. Our primary objective is to simplify the NDIS plan management process by offering the essential services for your success. By working together, Our aim to create a welcoming and nurturing community where individuals can reach their maximum potential.
We are fully committed to positively influencing the lives of individuals with disabilities. Our primary objective is to support the community by offering extensive NDIS services.
At Iconic Care Plan Management, your well-being takes precedence, and we are dedicated to empowering you to lead a fulfilling life. Join us in creating a brighter future where everyone is embraced, supported, and encouraged to flourish. Reach out to us today and explore the endless possibilities that await you.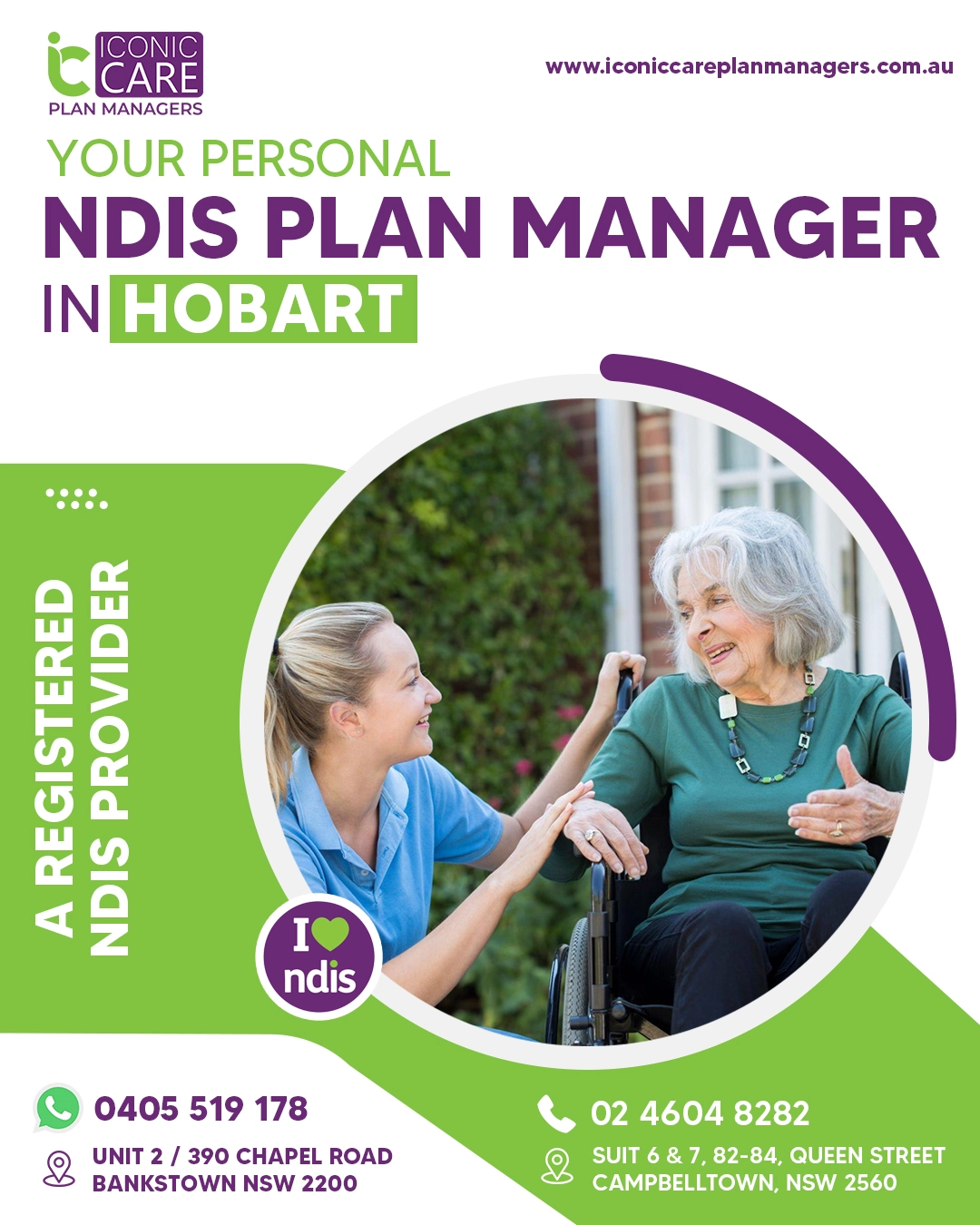 Why Choose Iconic Care Plan Mangers 
Why choose Iconic Care Plan Management in Hobart? Here are some reasons why we stand out:
Expertise in NDIS Services:Experienced and respected NDIS service provider in Hobart. Our expert team ensures you receive guidance and support throughout the process.
Personalized Care Plans:We recognize your uniqueness and aspirations. Our dedicated team collaborates closely with you and your support network, creating personalized care plans for your specific needs, promoting independence and empowerment.
Wide Range of Services:From daily living support to community engagement and social activities, we offer a comprehensive range of services designed to enhance the quality of life for our participants. We are here to assist you in all aspects of your NDIS journey.
Advocacy and Support: We are not just a service provider; we are your advocates. We stand by you to ensure that your needs and preferences are heard and met, working tirelessly to safeguard your rights and interests.
Continuous Improvement:We are dedicated to continuously improving our services and staying up-to-date with the latest advancements in disability support. Your feedback is valuable to us as we strive to deliver even better outcomes for our participants.
 We firmly believe in fostering connections within local communities. Wherever feasible, we collaborate with regional organizations and service providers to enhance accessibility and promote inclusivity.
Plan Management
Ways To Manage Your Plans
The Three Ways Your Plan Can Be Managed Are:
Plan Managed
We offers expert NDIS care plan management in Perth. Personalized support, tailored plans, and helping you achieve your goals. Contact us today!
Self Managed
We provides expert NDIS care plan management in Canberra. Personalized support, tailored plans, and hassle-free payment disbursement. Contact us today!
Agency Managed
Expert NDIS care plan management in Canberra. Personalized support, tailored plans, hassle-free payments. Contact us today!
Or you can choose to use a combination of management types to suit your needs.
When you use an NDIS plan manager, they take on the responsibility of paying the bills from your service providers. The plan manager is also responsible for giving you important information to help you manage your plan effectively, such as monthly statements showing how much you have spent.
Plan Managed:
Choose from a range of registered and non-registered providers.
Manage payments to NDIS support providers.
Ensure professional budget management for the sustainability of your plan.
Receive guidance to navigate the intricate aspects of the NDIS.
Self Managed:
Exercise decision-making aligned with your plan objectives.
Select both registered and non-registered providers.
Hire your own staff or delegate employment responsibilities.
Maintain complete control and accountability for your NDIS funds and claims process.
Agency Managed:
Enjoy convenient access to the myplace portal to track providers' claims against NDIS funds.
Experience the freedom to choose from a diverse selection of registered providers.
Gain enhanced control over the utilization of NDIS funds.
Need A Plan Manager?
Have the freedom to make all the choices without the hassle of managing the paperwork – leaving you more time to live the life you want!