Discover Expert NDIS Plan Managers In Melbourne
NDIS Plan Management Services In Melbourne
Are you in Melbourne, VIC, or the surrounding areas and seeking an NDIS plan manager to assist with your NDIS funding?
Look no further than Iconic Care Plan Management! Our team of experts provides professional, personalized, and friendly NDIS plan management services in Melbourne and its neighboring regions. We are dedicated to making your NDIS journey as easy and stress-free as possible, and our commitment to excellence is reflected in everything we do.
We apprehend the challenges and frustrations of navigating the NDIS, so we strive to provide you with a top-notch plan management service that will save you time and hassle. Let us help you achieve your goals and live your best by simplifying the NDIS process.
Iconic Care Plan Management puts you in control of your NDIS plan. Our plan managers provide an effortless way to pay your invoices on time and get the most out of your budget.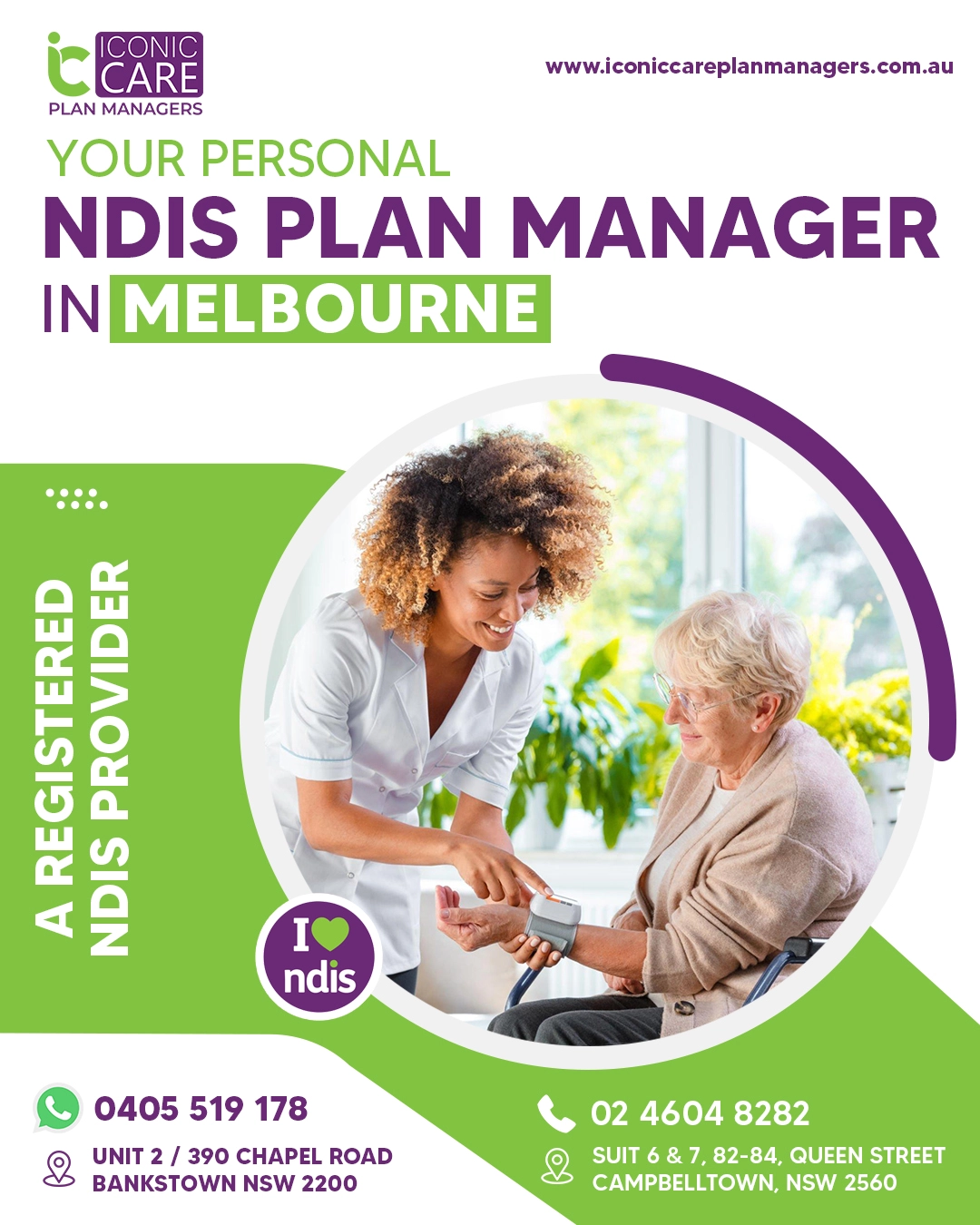 Iconic Care Plan Management stands out as a trusted NDIS plan
management provider in Melbourne for several compelling reasons:
Expert NDIS Advice:

Our caring team helps you navigate the NDIS, reducing your stress. With firsthand NDIS experiences, we've supported people with disabilities from the beginning.
Easy To Use Portal:

Monitor your NDIS budget at your convenience, 24/7. Receive notifications on your preferred schedule and take charge of your plan from anywhere with our user-friendly app.
Help When You Need:

Extensive capacity and long hours for customers across Australia. You're valued by our dedicated team, receiving expert plan management.
Choice And Control:

We put you in control and give you the flexibility you need to get the most from your plan.
At Iconic Care Plan Management, we strive to enhance your experience by offering greater control over invoicing and the freedom to choose your preferred providers. Our ongoing efforts focus on improving yourself and supporting access to cater to your needs.
Plan Management
Ways To Manage Your Plans
The Three Ways Your Plan Can Be Managed Are:
Plan Managed
Experience top-tier care plan management services akin to NDIS in Brisbane, delivered by esteemed experts such as Iconic Care Plan Managers.
Self Managed
We assume the responsibility of disbursing payments to service providers and efficiently handling all the necessary paperwork associated with NDIS Plan Management.
Agency Managed
Registered providers possess the capability to directly submit their invoices to the National Disability Insurance Agency (NDIA) to facilitate payment.
Or you can choose to use a combination of management types to suit your needs.
When utilizing an NDIS plan manager, We assume the responsibility of handling bill payments to your service providers. Additionally, the plan manager provides vital information to assist you in effectively managing your plan, including monthly statements showcasing your expenditure.
Plan Managed:
Choose from a range of registered and non-registered providers.
Manage payments to NDIS support providers.
Ensure professional budget management for the sustainability of your plan.
Receive guidance to navigate the intricate aspects of the NDIS.
Self Managed:
Exercise decision-making aligned with your plan objectives.
Select both registered and non-registered providers.
Hire your own staff or delegate employment responsibilities.
Maintain complete control and accountability for your NDIS funds and claims process.
Agency Managed:
Enjoy convenient access to the myplace portal to track providers' claims against NDIS funds.
Experience the freedom to choose from a diverse selection of registered providers.
Gain enhanced control over the utilization of NDIS funds.
Need A Plan Manager?
Have the freedom to make all the choices without the hassle of managing the paperwork – leaving you more time to live the life you want!