NDIS Plan Management Services In Wollongong
Learn the steps involved in obtaining NDIS Plan Management in Wollongong
Welcome to Iconic Care Plan Managers, your friendly helper for NDIS plans in Wollongong! We're here to make things easy for you. We promise to give you special support and smart advice so you can understand and get the best care and help from the National Disability Insurance Scheme (NDIS). We're on your side to make sure you get the very best care and support you need!
Our team of experts knows that everyone is different, especially those with disabilities and their families. We want to be your pals in figuring out what you need! We'll work closely with you to make a special plan just for you.
At Iconic Care Plan Managers, we think it's important to help you live your best life. We really care about what you think and what you want. We listen to what's important to you – your worries, likes, and dreams. Our aim is to help you be more independent, feel good, and join in your community. We're here to support you!
If you're part of the NDIS, you get to decide how your money is taken care of. If you pick us to manage your plan, we'll team up with you to make a plan that fits what you need and what matters to you. We'll take care of all the money stuff for you – paying the people who help you, planning your budget, and making sure everything adds up. You can count on us to handle it all!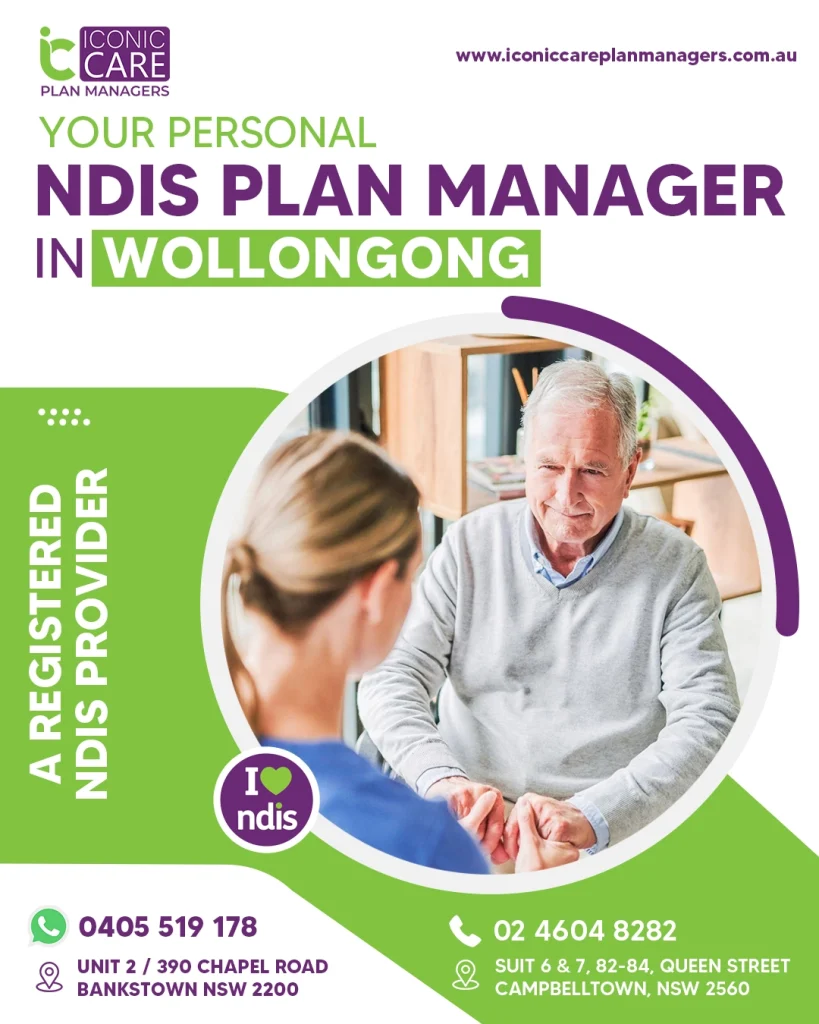 Our Plan Management Services
NDIS Plan Management: We will manage your NDIS funding and ensure that it is used effectively and efficiently to meet your needs.
---
Support Coordination: Our team can connect you with local service providers and coordinate support services to help you achieve your goals.
---
Continuous Improvement: We regularly review and update your plan to accommodate changes in your circumstances and evolving needs.
---
Financial Management: We handle all aspects of financial management, from budgeting to claims processing, ensuring that your funds are used optimally.
---
Why Choose Iconic Care Plan Managers
At Iconic Care Plan Management, our aim is to deliver exceptional customer service and outcomes that exceed your expectations. We invite you to explore our website and learn more about our services and commitment to supporting people with disabilities in Wollongong. Contact us today to schedule a consultation and discover how we can assist you in achieving your goals and living your best l
Iconic Care Plan Managers is here to support you on your NDIS journey. You can reach out to us through the following contact details:
Plan Management
Ways To Manage Your Plans
The Three Ways Your Plan Can Be Managed Are:
Plan Managed
Receive top-notch NDIS-like care plan management services in Canberra from esteemed professionals such as Iconic Care Plan Managers.
Self Managed
In our role, we assume the responsibility of disbursing payments to service providers and handling all the necessary paperwork involved in NDIS management.
Agency Managed
Registered providers have the ability to directly submit invoices to the National Disability Insurance Agency (NDIA) for payment.
Or you can choose to use a combination of management types to suit your needs.
When you use an NDIS plan manager, they take on the responsibility of paying the bills from your service providers. The plan manager is also responsible for giving you important information to help you manage your plan effectively, such as monthly statements showing how much you have spent.
Plan Managed:
Choose from a range of registered and non-registered providers.

Manage payments to NDIS support providers.

Ensure professional budget management for the sustainability of your plan.

Receive guidance to navigate the intricate aspects of the NDIS.
Self Managed:
Exercise decision-making aligned with your plan objectives.

Select both registered and non-registered providers.

Hire your own staff or delegate employment responsibilities.

Maintain complete control and accountability for your NDIS funds and claims process.
Agency Managed:
Enjoy convenient access to the myplace portal to track providers' claims against NDIS funds.

Experience the freedom to choose from a diverse selection of registered providers.

Gain enhanced control over the utilization of NDIS funds.



Need A Plan Manager?
Have the freedom to make all the choices without the hassle of managing the paperwork – leaving you more time to live the life you want!