You should know how to obtain NDIS plan management services in Pedy
NDIS Plan Management Services In Pedy
Are you seeking professional and reliable NDIS plan management services in Peddy, South Australia, or anywhere across the vast expanse of Australia, including in New South Wales, Northern Territory, Western Australia, Tasmania, Queensland, Victoria and Capital Territory? Look no further! Iconic Care Plan Management is your go-to partner for easy, best, high quality and all types of NDIS plan management specific to your unique needs and goals.
At Iconic Care Plan Management, we offer our premium NDIS plan management services or plan managers in multiple locations through our best NDIS plan management software, which includes all types of plan management OCR, ACI and NDIS, guaranteeing that individuals with disabilities, in addition, you can also get work from our plan management services as my plan manager with your families as well as also can choose the self-managed plan for better fulfils to your needs. Support networks can access our expertise and support wherever they may be in Australia. Our services extend to: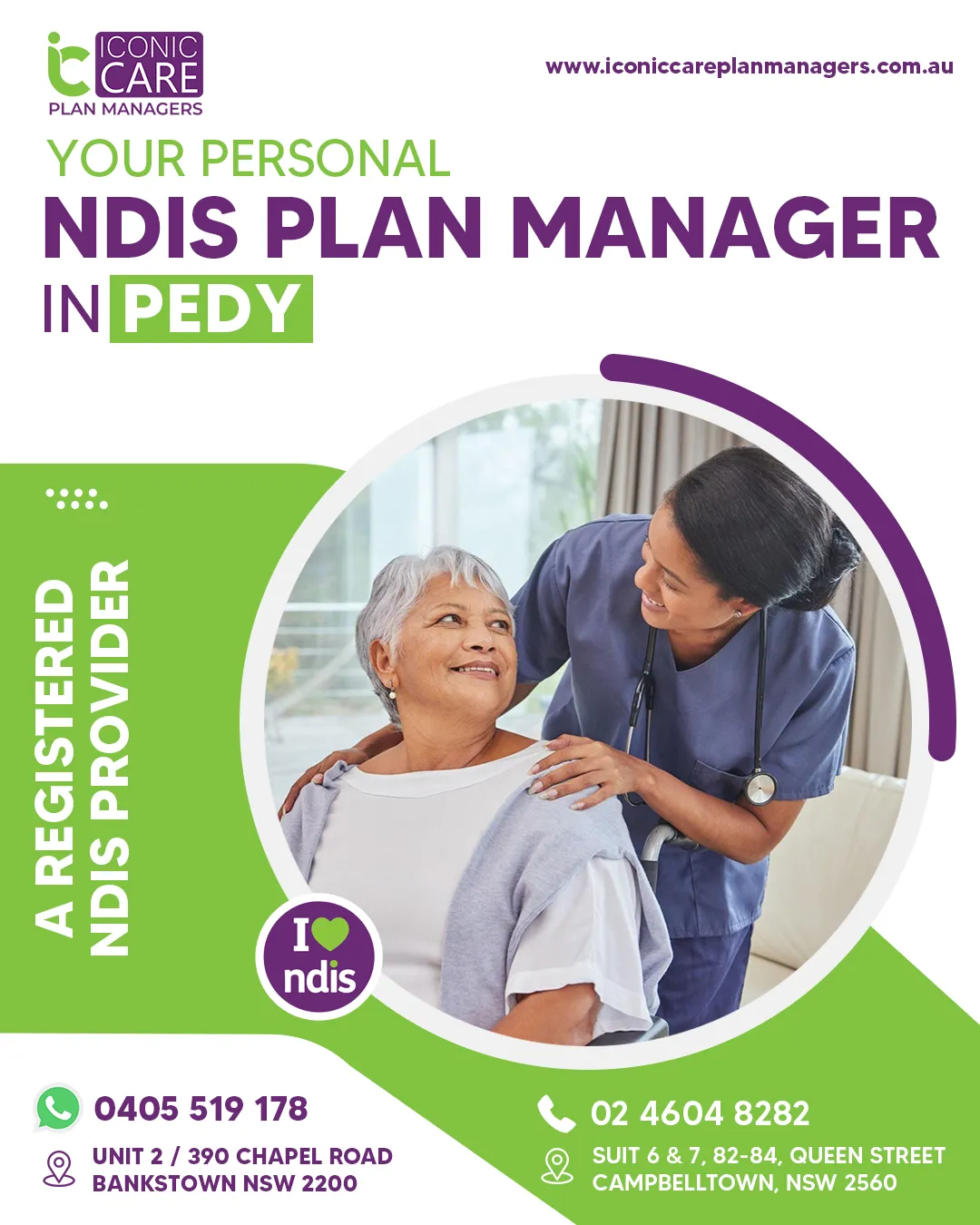 Peddy, South Australia:

 Our headquarters are located in Campbelltown, New South Wales, where we have a strong presence, deep local knowledge, and a commitment to treating our community with the finest care and dedication.

All Provinces of Australia:

 Our dedicated team is here to assist you no matter where you are in Australia. We have a widespread network of professionals ready to manage your NDIS plan effectively.

Major Cities Across Australia:

 Whether you reside in Sydney, Melbourne, Brisbane, Perth, or any other major city in Australia, Iconic Care Plan Management is ready to cater to your NDIS plan management needs.
Why Choose Iconic Care Plan Management?
When you choose Iconic Care Plan Management, you select a partner with a proven track record of excellence. Here's why we are the preferred choice:
Expertise:

 Our team consists of highly experienced and certified NDIS plan managers who understand the ins and outs of the NDIS scheme. We stay up-to-date with all the latest changes and regulations to ensure you receive the best service possible through our NDIS plan management software, and also patients get through the NDIS plan management near you or me.

Ample Support:

 We believe that every individual's needs are unique. That's why we work closely with you to tailor our services to your requirements, ensuring you get the most out of your NDIS plan.

Transparency:

 We prioritize transparency in everything we do. You'll have full access to your plan's financial information, making tracking your budget and expenses easy.

Accessibility:

 Our extensive service locations ensure that NDIS plan management is accessible to all Australians, no matter where you are located.
Are you prepared to manage your care effectively? Reach out to us now to schedule a consultation and discover how Iconic Care Plan Management can assist you in reaching your objectives. You can contact us by dialling 02 4604 8282,, email info@iconiccareplanmanagers.com.au, or filling out our online form. We are eager to assist you as you embark on achieving greater independence.
Plan Management
Ways To Manage Your Plans
The Three Ways Your Plan Can Be Managed Are:
Plan Managed
Receive top-notch NDIS-like care plan management services in Canberra from esteemed professionals such as Iconic Care Plan Managers.
Self Managed
In our role, we assume the responsibility of disbursing payments to service providers and handling all the necessary paperwork involved in NDIS management.
Agency Managed
Registered providers have the ability to directly submit invoices to the National Disability Insurance Agency (NDIA) for payment.
Or you can choose to use a combination of management types to suit your needs.
When you use an NDIS plan manager, they take on the responsibility of paying the bills from your service providers. The plan manager is also responsible for giving you important information to help you manage your plan effectively, such as monthly statements showing how much you have spent.
Plan Managed:
Choose from a range of registered and non-registered providers.
Manage payments to NDIS support providers.
Ensure professional budget management for the sustainability of your plan.
Receive guidance to navigate the intricate aspects of the NDIS.
Self Managed:
Exercise decision-making aligned with your plan objectives.
Select both registered and non-registered providers.
Hire your own staff or delegate employment responsibilities.
Maintain complete control and accountability for your NDIS funds and claims process.
Agency Managed:
Enjoy convenient access to the myplace portal to track providers' claims against NDIS funds.
Experience the freedom to choose from a diverse selection of registered providers.
Gain enhanced control over the utilization of NDIS funds.
Need A Plan Manager?
Have the freedom to make all the choices without the hassle of managing the paperwork – leaving you more time to live the life you want!