Gain a satisfied understanding of the process of obtaining NDIS plan management in Carins
NDIS Plan Management Services Cains
Welcome to Iconic Care Plan Managers in Carins! We understand that understanding the National Disability Insurance Scheme (NDIS) can be tough, which is why we're here to help. Our team of experts is dedicated to providing personalized, professional, and compassionate NDIS plan management support to individuals with disabilities and their families.
You can rely on us to help you live the best life possible as a local provider of NDIS plan management services. We'll work closely with you to identify your qualifications and develop a customized plan that meets your unique needs and dreams. From managing funding and payments to coordinating with healthcare providers and advocating on your behalf, we've got you covered.
Everyone deserves high-quality care and support, and that's what we do at Iconic Care Plan Managers. That's why we've assembled a team of experienced professionals who share our passion for improving lives through effective NDIS plan management. Whatever you need, from daily tasks to employment support to therapies and treatments, we're here for you.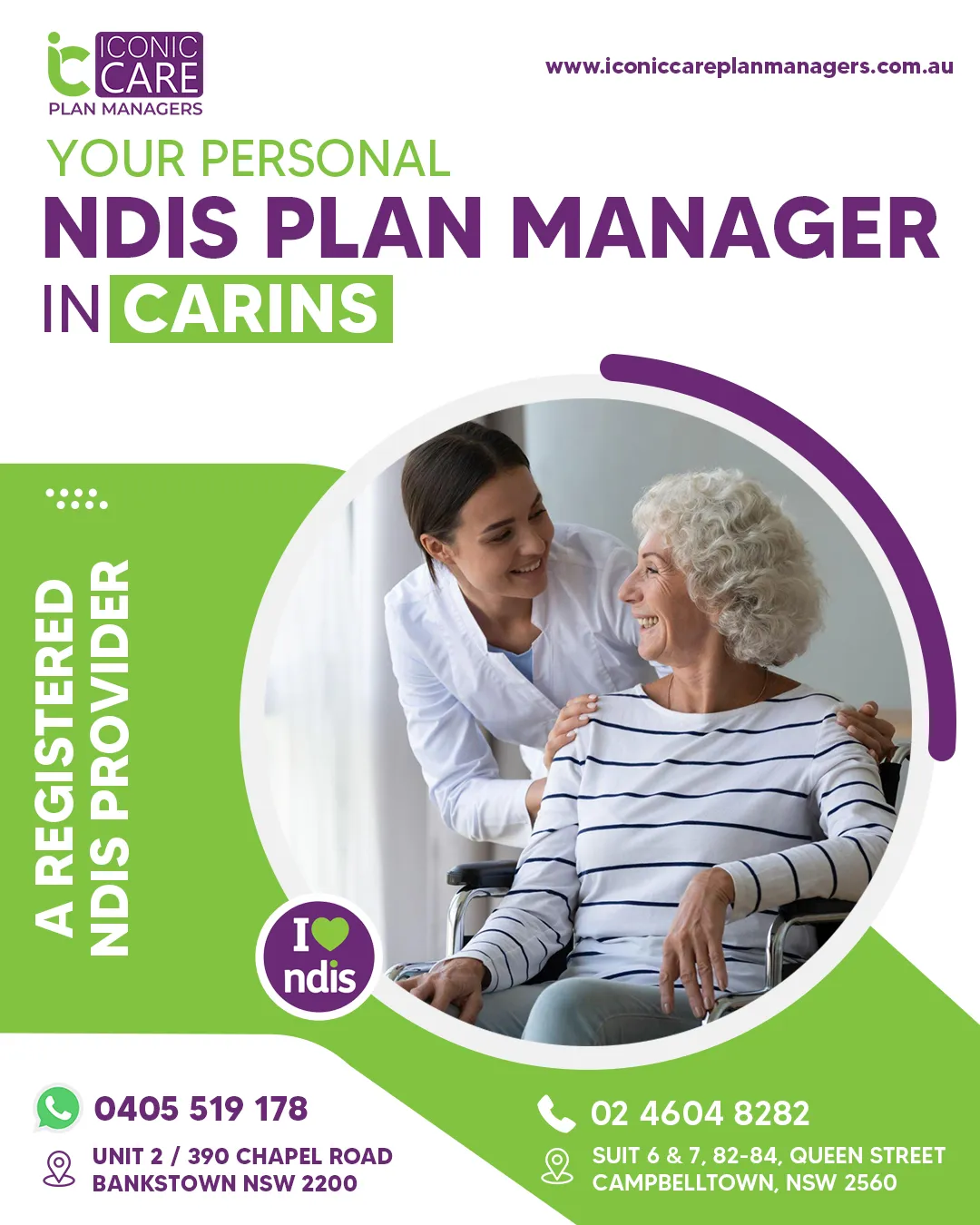 Extensive NDIS Knowledge: Iconic Care Plan Managers' team consists of experienced professionals who have extensive knowledge and understanding of the NDIS. As a result, participants can trust our care.
Personalized Support: Iconic Care Plan Managers provide personalized support to people with disabilities, customize their services to fit their needs. As a result, participants receive the assistance they need.
Access to High-Quality Care: Our NDIS Plan Managers work with a network of high-quality healthcare providers, making sure participants receive the care. The highest level of care can be provided, according to individual needs.
Improved Quality of Life: We help participants achieve their goals, increase their independence, and improve their quality of life. This can lead to greater overall satisfaction and happiness.
Collaborative Approach: We collaborate with healthcare providers, advocates, and other stakeholders. Collaborative approaches can improve health and well-being.
Continuous Improvement: Iconic Care Plan Managers continuously monitor and improve their services to meet participants' evolving needs. Participants can expect the best possible care and support because of this commitment to continuous improvement.
Why Choose Iconic Care Plan Managers
Experienced Professionals: Our team consists of professionals who have extensive knowledge and understanding of the NDIS. Having worked in the industry for years, we have developed strong relationships with providers, advocates, and other stakeholders.
Compassionate Approach: All participants at Iconic Care Plan Managers receive compassionate and empathetic support. Providing a supportive environment that promotes wellbeing and independence is important to them.
Local Presence: Iconic Care Plan Managers provides NDIS plan management services in Carins. Contact can be made in person, by phone, email, or online. Participants and care managers can interact face-to-face and develop a stronger connection.
Flexible Communication: Iconic Care Plan Managers understands that every participant has different communication preferences. Their flexible communication options include phone, email, and online forms, accommodating a variety of needs.
Community Connection: Iconic Care Plan Managers provides support to individuals with disabilities through partnerships with local organizations and healthcare providers. They are able to provide participants with a broader range of services and resources through this collaboration.
Customer Service: We provide prompt, friendly, and helpful support to all participants. As part of the NDIS process, we focus on building long-term relationships with clients.
Plan Management
Ways To Manage Your Plans
The Three Ways Your Plan Can Be Managed Are:
Plan Managed
Receive top-notch NDIS-like care plan management services in Canberra from esteemed professionals such as Iconic Care Plan Managers.
Self Managed
In our role, we assume the responsibility of disbursing payments to service providers and handling all the necessary paperwork involved in NDIS management.
Agency Managed
Registered providers have the ability to directly submit invoices to the National Disability Insurance Agency (NDIA) for payment.
Or you can choose to use a combination of management types to suit your needs.
When you use an NDIS plan manager, they take on the responsibility of paying the bills from your service providers. The plan manager is also responsible for giving you important information to help you manage your plan effectively, such as monthly statements showing how much you have spent.
Plan Managed:
Choose from a range of registered and non-registered providers.
Manage payments to NDIS support providers.
Ensure professional budget management for the sustainability of your plan.
Receive guidance to navigate the intricate aspects of the NDIS.
Self Managed:
Exercise decision-making aligned with your plan objectives.
Select both registered and non-registered providers.
Hire your own staff or delegate employment responsibilities.
Maintain complete control and accountability for your NDIS funds and claims process.
Agency Managed:
Enjoy convenient access to the myplace portal to track providers' claims against NDIS funds.
Experience the freedom to choose from a diverse selection of registered providers.
Gain enhanced control over the utilization of NDIS funds.
Need A Plan Manager?
Have the freedom to make all the choices without the hassle of managing the paperwork – leaving you more time to live the life you want!