Discover how to get NDIS plan management in Townsville
NDIS Plan Management Services Townsville
Hi there! Are you looking for someone to help you with your NDIS plan? Do you live in Townsville, Queensland? You're in luck because we're here to help!
NDIS stands for National Disability Insurance Scheme. It's a program that helps people with disabilities get the support they need to live their lives and reach their goals. If you have a disability, you might be eligible for funding through the NDIS to pay for things like therapy, equipment, and transportation.
But sometimes managing your NDIS plan can be tricky. That's where we come in. Our company is called Iconic care plan managers, and we specialize in helping people like you manage their NDIS plans. We've been doing this for a long time, and we're really awesome at it.
When you work with us, we'll get to know you and figure out what you need. We'll talk to you about your goals and aspirations, and we'll work with you to create a plan that's perfect just for you. We'll help you figure out what kind of support you need, and we'll find providers who can deliver those services to you.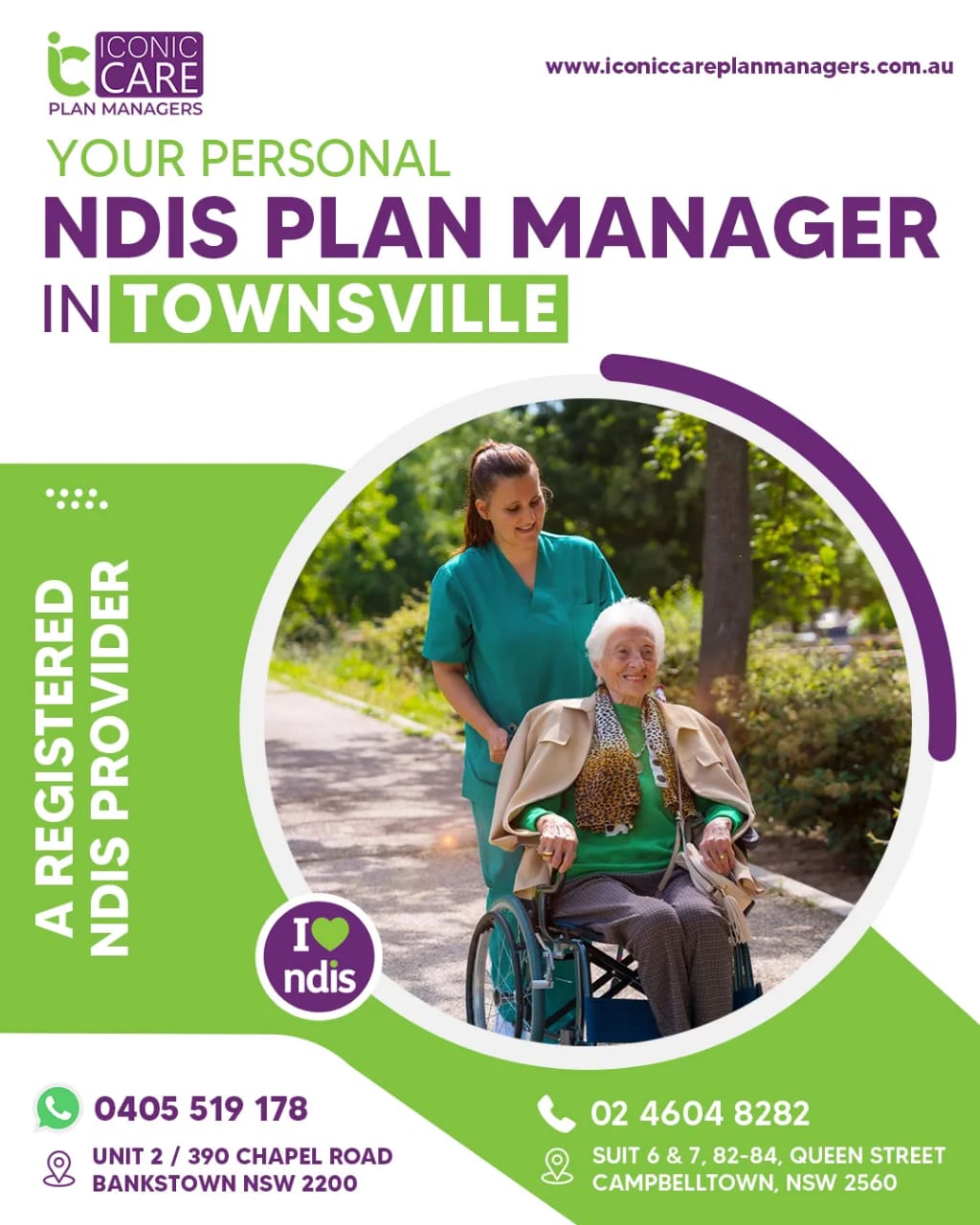 Extensive Experience in Townsville: We've successfully worked with numerous individuals in Townsville, helping them achieve their unique goals.
Variety of Goals: Whether you're looking to improve communication skills, enhance mobility, or gain more independence, we've got you covered.
Life-Changing Support: We've witnessed firsthand the transformative power of tailored support, and we're dedicated to helping you realize your dreams.
Commitment to Your Best Life: At [Company Name], we believe that everyone deserves to live their

best

life, and we are committed to providing exceptional service to each person we work with.
Respect and Kindness: We treat our clients with the utmost respect and kindness, ensuring your satisfaction with the support you receive.
Experienced NDIS Plan Managers: We are one of the most experienced NDIS plan managers in Townsville, with a proven track record of helping

individuals just like

you.
Compassionate Team: Our team is composed of caring and compassionate individuals who genuinely care about making a positive difference in your life.
Personalized Plans: We understand that everyone's needs are different, and we will work closely with you to create a plan that suits your unique circumstances.
Flexibility: Whether you require minimal or extensive support, we are flexible and ready to meet your needs.
Goal Achievement: Our mission is to help you achieve your goals and live your

best

life.
 
Plan Management
Ways To Manage Your Plans
The Three Ways Your Plan Can Be Managed Are:
Plan Managed
Receive top-notch NDIS-like care plan management services in Canberra from esteemed professionals such as Iconic Care Plan Managers.
Self Managed
In our role, we assume the responsibility of disbursing payments to service providers and handling all the necessary paperwork involved in NDIS management.
Agency Managed
Registered providers have the ability to directly submit invoices to the National Disability Insurance Agency (NDIA) for payment.
Or you can choose to use a combination of management types to suit your needs.
When you use an NDIS plan manager, they take on the responsibility of paying the bills from your service providers. The plan manager is also responsible for giving you important information to help you manage your plan effectively, such as monthly statements showing how much you have spent.
Plan Managed:
Choose from a range of registered and non-registered providers.
Manage payments to NDIS support providers.
Ensure professional budget management for the sustainability of your plan.
Receive guidance to navigate the intricate aspects of the NDIS.
Self Managed:
Exercise decision-making aligned with your plan objectives.
Select both registered and non-registered providers.
Hire your own staff or delegate employment responsibilities.
Maintain complete control and accountability for your NDIS funds and claims process.
Agency Managed:
Enjoy convenient access to the myplace portal to track providers' claims against NDIS funds.
Experience the freedom to choose from a diverse selection of registered providers.
Gain enhanced control over the utilization of NDIS funds.
Need A Plan Manager?
Have the freedom to make all the choices without the hassle of managing the paperwork – leaving you more time to live the life you want!